About me
European Tour player living the dream. Proud ambassador of Srixon, ACP, Galvin Green and Guardian Bom Sucesso.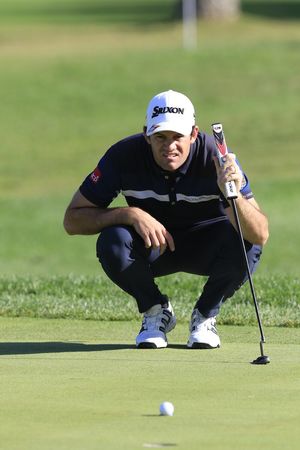 Real Club Valderrama
21 Oct 2017
Happy with the way I fought on the back nine yesterday. -3 total and currently tied 6th place👍 Let's have a...
Real Club Valderrama
20 Oct 2017
Good start at Valderrama Masters with a -2 first round 👍 More of the same today 🙏
Real Club Valderrama
19 Oct 2017
Ready to go Andalucia Master 😎 Excited to get going in one of the best tracks of the European Tour 🙌 Make...
Real Club Valderrama
17 Oct 2017
Morning prep at Valderrama Masters. The course is looking immaculate as always 👌
Milano Golf Club
14 Oct 2017
Heading into the weekend here at the Italian Open in T50 on -4, after a level par 71 yesterday. Looking...
Milano Golf Club
11 Oct 2017
Ready to go here in Milan for the Italian Open 👍 Off at 01.15 pm tomorrow. Nice to be able to wear my new...
Kingsbarns Golf Links
6 Oct 2017
Very enjoyable first day out at Dunhill Links with the legend Luis Figo 😉 Kingsbarns today!
Carnoustie Golf Links
4 Oct 2017
Great day of practice at Carnoustie Golf Links 😎 18 hole at the Old Course today before the real games begin!
Close House
29 Sep 2017
Solid first round at Close House yesterday. Great weather with some quality crowds, couldn't ask for more 🙌...
Gary Player Country Club
Sun City is a lovely place with a great golf course. The Gary Player design is fantastic and provides a very challenging test of golf. A must in South Africa!
Jumeirah Golf Estates - Earth Course
The course is challenging and really well designed. The bunkers are well placed and the greens are among the best we get to play on tour. The Earth Course belongs to my 3 favorite courses on the...
The K Club Golf Resort - The Palmer Ryder Cup Course
The K Club is a fantastic parkland golf course near Dublin with a lot of history. What a treat to play the Irish Open there! One of my favourite hole was the par 5 finishing hole!
Majlis at Emirates Golf Club
The Majilis course is one of the best that I have ever played and it's always in superb conditions, so is the weather in Dubai! A must play in the Area!
Montado Hotel and Golf Resort
Montado is a nice track 30 min from Lisbon Airport. The back 9 will surely challenge the best players and its signature hole is without a doubt the par 3 18th which features an island green!
Quinta Do Lago - South Course
Quinta do Lago is one of the best golf resorts in Portugal with 3 fabulous golf courses. Always great to be back there!
Al Mouj Golf
Almouj is a stunning seaside golf course with some amazing holes like 9 and 18! Having won the Challenge Tour Final there in 2015, it's a very special place for me and one that I want to go back for...
Gloria Golf Club - New Course
Gloria is a fantastic tree line golf course with a lot of doglegs left and right and very tight of the tee. Make sure you bring your A-game ;)
Bro Hof Slott Golf Club
I played Bro Hof for the first time this year during the Nordea Masters, what a surprise it was! It's a very good layout and the conditions were immaculate. Can only recommend it if you are in...
Cleveland - TFi 2135
Putter
TaylorMade - M1
Fairway Wood
Cleveland - 588 RTX CB Satin Chrome
Wedge